New website design, logo and ongoing hosting support
A complete service including a new logo, content creation and website design and build resulted in a beautiful website that is also hosted and supported by us.
Rachael came to us needing a new logo and a website for her improvised dance and clowning company. She had thought about building a website herself but was struggling not just with the technology and creating content but also to find the time to dedicate to it. She was conflicted between wanting a site that was professional but also wanting one that accurately represented the unique nature of her company's work.
Ongoing and clear communication meant that Rachael felt comfortable leaving all aspects of the website content and build to us.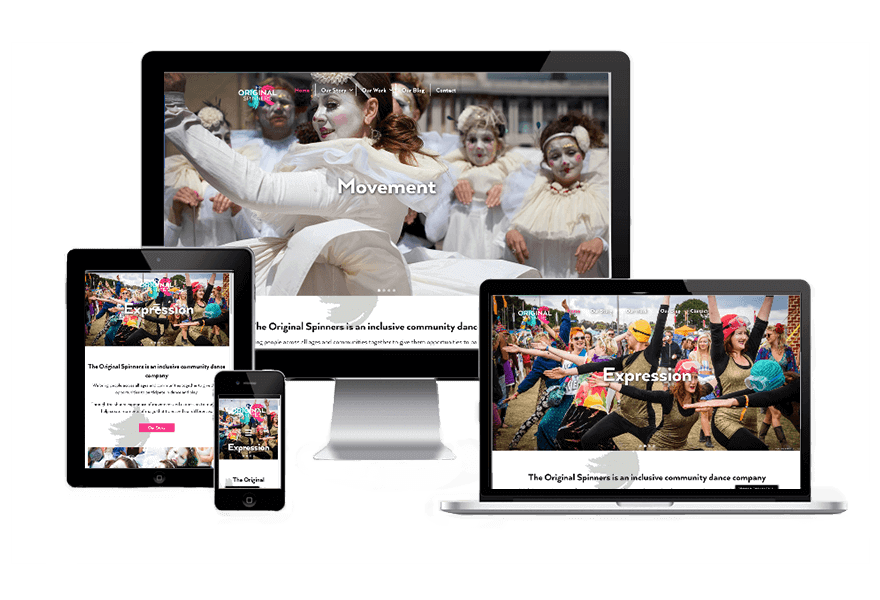 We had meetings in person with Rachael and her team throughout the project in order to fully understand and engage with their work. Nic designed the logo before incorporating it into the website design. As the website was image-led, Monika pared back the content, distilling the ideas behind the work and working in conjunction with Nic in order for the website to capture the essence of what The Original Spinners do. The website was designed so it can take the dance company forward and be easily updated by Rachael with new classes, workshops or events on offer.
The Original Spinners now have a beautiful website that explains their work to potential clients, audiences and funding bodies.
Features
Full digital design and discovery project
New website, content and design
WordPress hosting and support
Results
The Original Spinners are thrilled with their new website which is an amazing advert for their work and can easily be kept up-to-date, leaving Rachael to concentrate on running the classes and events that are unique to her business.
Are you ready to get started?
Let's see how we can help get your website and digital marketing on track