As a small but perfectly formed website design agency, at Individualise we like to think that we embody the spirit of our home city.
Innovative and diverse, Bristol embraces a spirit of independence in such a way that it is simply a joy to live and work here. There's always an exciting venue to visit, a new venture to discover or a thought-provoking discussion to be had. Let's not forget when the city made international headlines toppling the statue of Edward Colston off its plinth and dumping it unceremoniously in the city's harbour. 
With a plethora of galleries and theatres to visit, a phenomenal foodie scene, 400 acres of green space to explore on The Downs (host also to various music, food and comedy festivals), more festivals including the annual Balloon Fiesta and Street Art showcase Upfest – there's so much going on sometimes you need to catch a breath. Which is easy to do because beyond Bristol, the beauty of the South West beckons.
Creativity is key
The vibrancy of creative industries here reflect the city's cultural life. Bristol has England's strongest digital media supply chain outside London, and the city is a buzzing incubator for start-ups and new enterprise as well as established big hitters such as the BBC and Aardman. Creative and digital media form a large part of Bristol's modern economy and tap into its history of world class innovation.  
We love living and working in a place that creates such a dynamic culture of optimism and potential and our professional life has been given the greatest boost by the unique environment that thrives in this amazing city.
Bristol web designer
It's perhaps no surprise that we find our clients to be as diverse and inspiring as our city. We look after a plethora of Bristol websites but even though we are a Bristol web designer we have clients that hail from further afield. From supporting micro businesses – local tennis clubs, fitness coaches, quirky theatre groups – to larger, more corporate clients – database entrepreneurs, national and local charities – we thrive on wherever the next challenge takes us. 
And regardless of size or location we embark on all our projects with the same open-minded approach. As a select team of consultants we can come together in various different ways, bringing our individual strengths and areas of expertise to each project depending on its requirements. From design and digital strategy, SEO knowledge or content creation, between us we can provide what any project needs, however large or small the brief. 
Ultimately we help businesses and organisations tell their stories and connect with audiences. 
How we do it:
Digital branding
We can help with design and create a coherent brand identity for you that truly reflects your business and can used across all your digital marketing. We'll help you find a tone of voice for you so you know how to communicate confidently and effectively with your customers. 
Website design
Building a website isn't just about a beautiful design that looks good. Website design is about content, functionality and getting a clear message across. Not everyone is interested in the finer details of website development but we are, and we can do all that for you. Want a beautiful website that works on all devices AND pulls in clients? You've come to the right place. 
SEO
Our SEO work is a whole digital marketing plan that's all about tailoring your needs with the demands of your customers – increasing your rankings as well as your conversation rate. Small business can especially benefit from a well-thought through SEO strategy. Sound good? You know it makes sense. 
Content marketing
Attract, engage and retain your audience with fresh, relevant new content and blogs. Designed to establish your expertise and promote your brand awareness with your potential clients we can provide one-off improvements or regular updates. Our writing team can create thoughtful new content with your website in mind. 
WordPress hosting and website support
We also offer WordPress website support and hosting on our fast and secure server. Be confident that your site is up-to-date, secure and optimised – and is backed-up daily. We also offer support plans to help with your content marketing, SEO and other improvements on an ongoing basis. 
WordPress hosting and support services >
Bespoke Bristol web design services
We always tailor our plans and designs to each individual or business, providing a personal service unique to you, while keeping the bigger digital picture clearly in sight. This way we can bring your business the right website solutions, giving you the freedom to focus on what you do best. 
So whether you need a website or you have a website in need, don't hesitate to get in touch. In Bristol's famous spirit of inclusivity, we're more than happy to share some of our city's magic with you.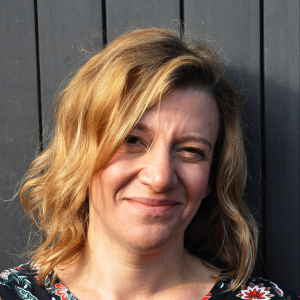 Starting her career building websites in notepad back in the late 1990s, Nic's worked on a wide range of small and large-scale web projects. Nic can take your web project from website design brief, to website development completion and support you with your digital marketing.
Want to know how SEO can help your business grow?
Get your free report to find out what actions you can take to get Google to love your website.
Blogs to build a better business
Bristol Business looking for a web designer?
Yes, I want some website magic!
Let's see how we can help get your website and digital marketing on track.